Via Axiomatic Gaming | News
Niantic: Harry Potter: Wizards Unite and Bringing Gaming Communities Together
June 20, 2019 | Author: Leo Hsu
As an extended part of the Niantic family, we at aXiomatic are thrilled to welcome the passionate Harry Potter fanbase to share in an incredibly fun, social experience with the launch of the augmented reality (AR) mobile game Harry Potter: Wizards Unite. For the scores of fans who are raring to take the experience to the next level, Niantic, WB Games, and the City of Indianapolis recently announced the first Harry Potter: Wizards Unite Fan Festival on August 31 – September 1 at the White River State Park in Indianapolis, Indiana. During the two-day event, thousands upon thousands of intrepid witches and wizards will explore the outdoors side-by-side and solve special in-game challenges designed for the event while many more follow along and participate via their own phones remotely.
As we look ahead with eager anticipation to join fellow aspiring witches and wizards in fighting the mysterious magical Calamity, we'd also like to take a look back at the way Niantic has disrupted the global games space by reinventing social gaming as a face-to-face, real-world activity–and why we are big believers in the fantastic live event experiences they create for fans.
To start with, at aXiomatic we love entertainment experiences that attract enormous crowds of ardent enthusiasts, whether at sports arenas, esports tournaments, or gaming festivals. Our investor group features industry leaders who have deep roots in traditional pro sports teams that bring the thrill of victory to local city fans–the Warriors, Capitals, Dodgers, and Lightning, to name a few–as well as incredible athletes who awe and inspire sports audiences. Our partner Team Liquid is one of the most decorated and beloved esports organizations globally, bringing crowds to their feet for their roster of champions and champions-to-be across 17 different competitive gaming titles. Niantic's passion for designing and hosting huge, innovative, interactive events for players of all ages is exactly in line with aXiomatic's philosophy and what we want to contribute to the world.
Last summer, more than 400,000 Pokémon GO players gathered in parks in Germany, the U.S., and Japan at three global events hosted by Niantic. The enthusiasm from people of all ages and all walks of life to come together and catch Pokémon under sunny skies was unlike anything we'd ever encountered before.
To keep the party going, a few weekends ago over 60,000 "Trainers" came out to the four-day Pokémon GO Fest event in Chicago, enjoying outdoor fun and adventures live while tens of millions more joined in across the world through their phones to complete Professor Willow's Global Challenge together.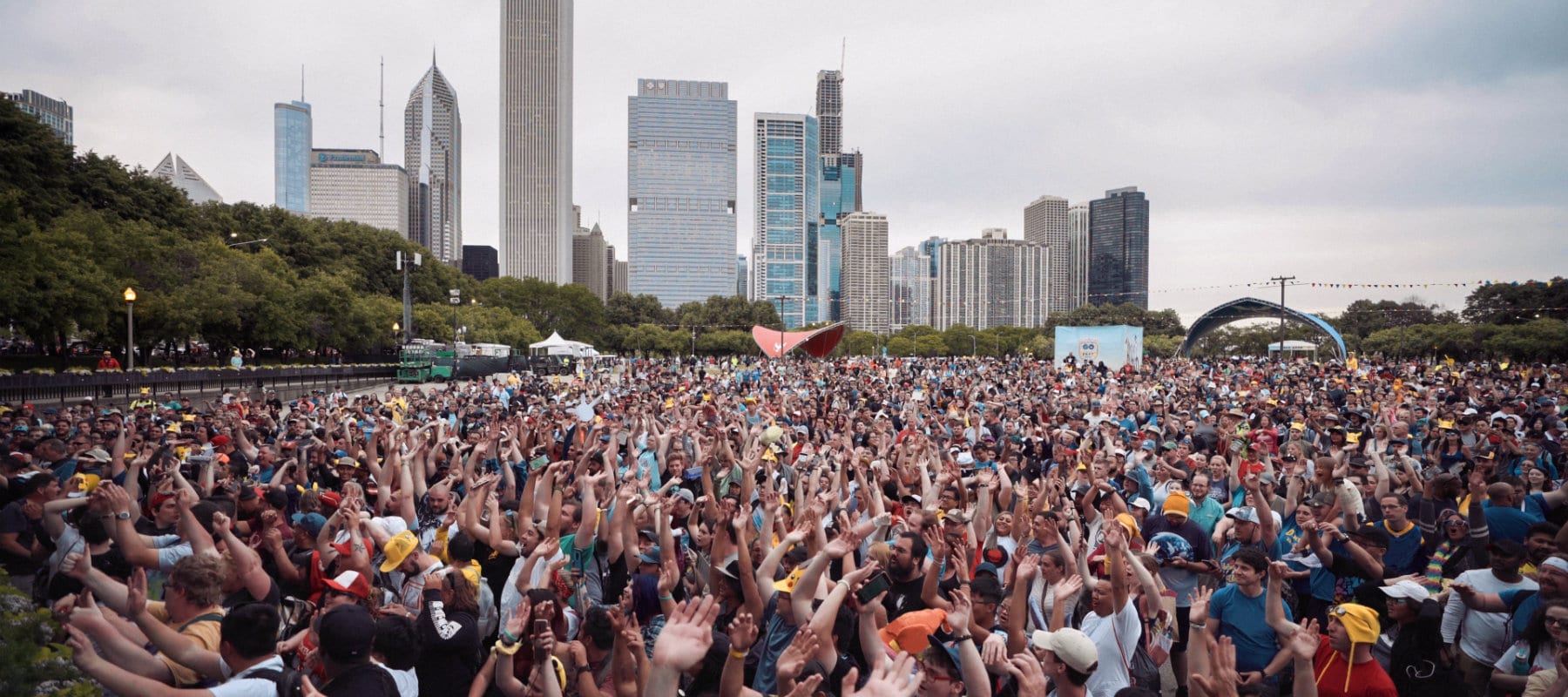 Events at this scale don't come out of nowhere–Niantic has been working relentlessly for years to design, develop, and expand their live productions. It was just about three years ago that Pokémon GO players first filled the parks and street corners of virtually every major city across the globe upon its release. This organic phenomenon inspired Niantic to host the inaugural Pokémon GO Fest in Chicago in 2017, which drew 20,000 players for the one-day event. In 2018, they reprised the Chicago festival and extended it to two days while piloting two large scale "Safari Zone" events in Germany and Japan; the expansion continues this year as 2019 Pokémon GO Fests have become four-day events across multiple major international cities and the "Safari Zone" format now rotates across different regions around the world.
These incredibly successful festivals and others have been built on the three pillars of Niantic's core philosophy as expressed by founder and CEO John Hanke: exploration, exercise, and real-world social interaction. Players find "an adventure in every neighborhood" through AR technology and top-caliber game design, they work out all their muscles and engage with their whole bodies (not just their minds and thumbs), and many discover that their favorite mobile game was best enjoyed through face-to-face collaboration and camaraderie. Niantic has already created a legacy of unique live events across the world that expand our ideas for what's possible when beloved fantasy worlds meet tangible reality, and they're not slowing down for Harry Potter: Wizards Unite.
We're proud to be partnering with a company that is continuing to evolve its world-leading AR technology to create something in the digital space that we all crave: fun and authentic experiences that forge bonds and bring players together in the real world. With productions in the larger entertainment industry on the horizon like the Metarama Gaming + Music Festival, which will present world-class musical acts alongside celebrated gaming personalities like Ninja, the sky's the limit when it comes to the new wave of live gaming events. We're looking forward to what we can achieve together with Niantic in the future!